Community website by MBC/Ernest Abrams. Call 808-739-9797 for advertising/sponsorship
Ala Moana - Honolulu, Hawaii
News Item

Mayor signs Bill 20 to update Honolulu's electrical codes
<!#43START>
Mayor signs Bill 20 to update Honolulu's electrical codes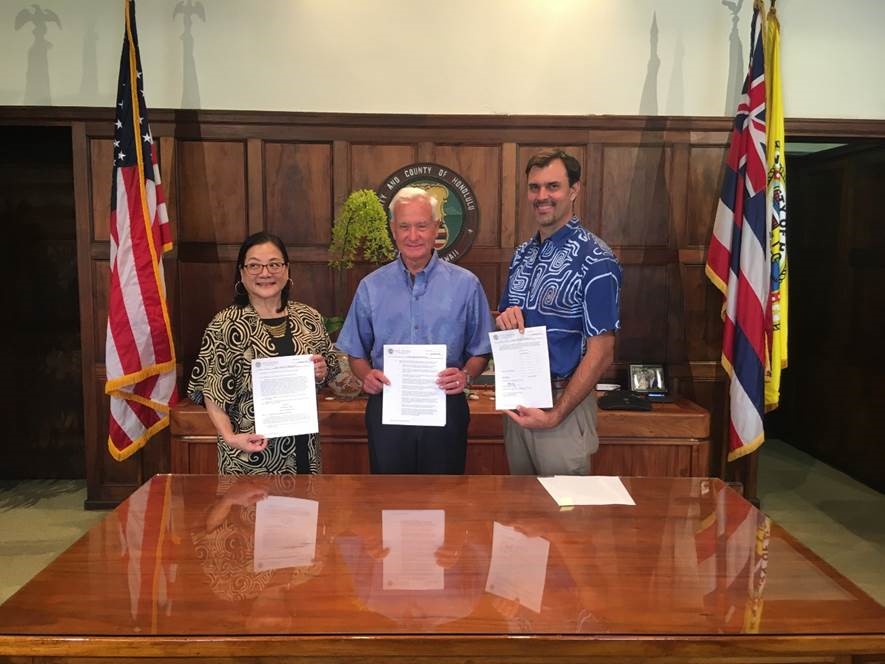 Mayor Caldwell is joined by Planning and Permitting Acting Director Kathy Sokugawa and Chief Resilience Officer Josh Stanbro.
HONOLULU – Mayor Kirk Caldwell has signed
Bill 20 (2019) CD2
into law, relating to the adoption of the State Electrical Code. The bill was passed by the Honolulu City Council on third reading during its Aug. 7 meeting by a vote of 9-0.
Rapidly updating Honolulu's building codes has been identified by many stakeholders as the most important step Honolulu can take to facilitate renewable energy, save costs, and make our buildings more resilient in the face of the current climate emergency.
Bill 20 (2019) CD2
updates the electrical code for the City and County of Honolulu by adopting the
2017 National Electrical Code
(NEC) for commercial and residential buildings, modernizing a code that had not been updated since 2008.
To download b-roll and interviews with Mayor Caldwell, Chief Resilience Officer Josh Stanbro and Acting DPP Director Kathy Sokugawa, please follows this link:
https://drive.google.com/open?id=1jOBIW1V60ayR8j-1sSBpq9CN4v2V4A9r
"Oʻahu residents should get the best and most up-to-date technology for the new homes being built on our island," said Mayor Caldwell. "Whether it is new solar storage technology to save money on utility bills, or eliminating unnecessary costs and obsolete equipment, this new electrical code will help pave the way for more renewable energy and cost savings for residents."
In addition to safety and other technical improvements, Mayor Caldwell's signing of the
2017 NEC
improves the city's sustainability and resilience by clarifying installation standards and procedures for solar photovoltaic PV, providing pathways for new energy storage technologies, and facilitating off-grid and microgrid systems. These improvements directly support the modernization of O'ahu's energy systems and can help shore up power and help soften the impacts of disasters such as Hurricane Maria in Puerto Rico. The Administration worked with stakeholders to include as many perspectives as possible and crafted the newly-approved electrical code to be specific to Honolulu's unique situation and energy demands.
"This new electrical code helps set the stage for Hawaiʻi's clean energy future," said Josh Stanbro, Chief Resilience Officer and Executive Director of the city's Office of Climate Change, Sustainability and Resiliency. "The City Council has taken a leadership role in updating our codes for the first time in over a decade, and this is an important first step as we upgrade to more sustainable infrastructure."
"Bill 20 is a good first step in addressing some of the issues regarding renewable energy development in Honolulu," added Will Giese, Executive Director of the Hawai'i Solar Energy Association. "We look forward to working with the Mayor's Office and the City and County of Honolulu on helping folks go renewable. The people of Hawai'i want clean energy and we should be doing everything we can to make that happen."
Bill 20 is the first in a series of critical code updates. The next critical code update,
Bill 25 (2019)
, relating to the adoption of the State Energy Code, passed the City Council's Zoning, Planning and Housing Committee Thursday on first reading. Meanwhile, an updated Plumbing Code and an updated Building Code will be introduced to the City Council later this year.
While the electrical code addresses technical specifications and new hardware for the grid,
Bill 25 (2019)
helps set performance and efficiency standards and is the second code bill taken up by City Council leadership. The Energy Code as written by the administration will help increase energy efficiency and savings for local homeowners by up to 50% in newly-built homes and apartments.
"Updating our electrical code was step one," said Department of Planning and Permitting Acting Director Kathy Sokugawa. "We need to ensure that our residents have an energy code that protects their bottom line and our island environment. We appreciate the hundreds of stakeholders and citizens who not only informed the creation of the bills, but are now weighing in to further support the modernization of our building standards."
The full text of Bill 20 can be found at
http://www4.honolulu.gov/docushare/dsweb/Get/Document-236122/BILL020(19).htm
. More information about the City and County of Honolulu Office of Climate Change, Sustainability and Resiliency can be found at
resilientoahu.org
.
<!#43END>
Featured Product/Service
<!998Template_start>
<!998Template_end>
---
Please send questions about this website to